It's our honor to serve those who have served. Don and Sandie Haney have been our clients for over 15 years, and they are like family to us. Similar to many of our clients, they are both veterans, and here's a bit of their story.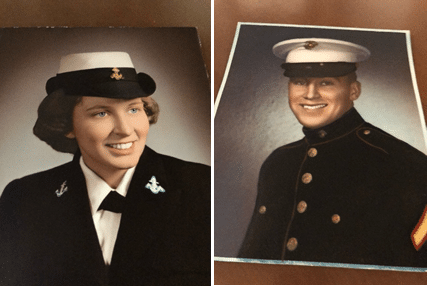 How They Met
Don joined the Marines in 1959 when he was just 17 years old. Why did he decide to join? Well, he said he and a buddy decided it would be a good idea – and then his buddy changed his mind and Don went in on his own. He took his first-ever flight on an airplane to go to Boot Camp in San Diego, CA. He was then stationed in Long Beach, CA on a large Navy Base as Military Police. And that's where he met Sandie. Sandie was stationed on the same Navy Base. Not too long after, they had a military wedding on the Navy Base in 1962 and the rest is history.
Life After Service
Don served for 4 years, and Sandie for 2, and then they moved to Tucson in 1965. Don continued his work in public service as a Border Patrol and Deputy Sheriff. Don eventually got an offer to move to Gillette, WY to be the safety and human resource manager at a coal mine. Sandie opened one of the first nationally credited private preschools in Gillette. Again, another story of a life of public service. What would we do without people like them?
Where are they now?
They recently moved back to Tucson for some warmer weather. They've been married for 58 years!! And they've been avid square dancers since they 1980s!
Thank you for your service and thank you for being our wonderful clients.