When you see someone standing at the top of a mountain, there was a climb that got them there. In today's world where social media plays a continual highlight reel of all of our best moments, it's easy to glorify the end product and not give credit to the process along the way. We often want the end result, but aren't too keen on the regiment that delivers it.
In the last 16 months, our world has been on a grueling climb. This climb wasn't a chosen climb by any of us, but none-the-less, it's ours to finish. Where could this climb lead and what kind of mountaintop views could we experience as a result?
With the Olympics underway, we watch athletes from all around the world compete for the title of the "greatest", "world's best", "Olympic gold medalist." When they stand on that podium with their medals, we are looking at a mountaintop experience. What was their climb to get there? What could we learn from their climb to help us through ours?
We have the privilege of serving a 3 time Olympic Gold Medalist swimmer as a client of SRP. We visited with Mike Burton and his wife, Carol, to see if we could get a picture of the path to the product…or the lane to the gold. We pulled out some "gold" that might be timely and helpful for all of us as we work to champion the pandemic and its effects.
9 Lessons from Mike Burton, Olympic Gold Medalist
1. OBSTACLES BUILD CHAMPIONS and champions USE obstacles to build
The word 'Champion' suggests that there has been something conquered, something has been overcome, someone has won… which also means there was an opportunity to lose. Mike's life has included several of these obstacles that we'll call 'opportunities'. As a 13 year old, Mike was riding home from school on the handlebars of his friend's bike when he was hit by a furniture truck severely injuring his knees and hips. After 8 weeks in the hospital, being so bored that he memorized every commercial that played, Mike was thrilled to figure out a way to move his body again. He wouldn't be able to do what he used to do, but he had options and he found one he loved…swimming. That obstacle pushed him into the opportunity that shaped his gold medal swimming career and later, moved him into helping other swimmers become champions. It wasn't his last obstacle nor was it his last time to turn an obstacle into a fueling opportunity.
That 8 weeks in the hospital set him behind in school. It continued to be a struggle and it remained a challenge all the way through high school. He struggled, but he kept swimming (literally and figuratively) and was able to attend UCLA on a swimming scholarship. The struggle built grit which gave him the edge to continue to overcome.
His senior year of high school, he missed the district meet due to mononucleosis, but he was cleared just in time to head to the championships….and win.
Competing with sickness in the Mexico City Olympics of 1968, Mike STILL won 2 gold medals.
Injuries, setbacks…they were all set up for great comebacks in his story. Obstacles are opportunities to become an overcomer and maybe even a champion.
2. TAKE ACTION ON WHAT YOU CAN CONTROL
Mike said he knew that if he was going to win, he needed to take control. For him, that meant swimming at every practice like it was a meet. It meant fixing his eyes on a competitor just enough ahead that he could work to beat them. Then he'd focus on the next better competitor, and the next, until he could work his way to becoming the best. When he couldn't play other sports, he jumped in the pool. When he had a vitamin deficiency, he focused on his nutrition. He takes action on things within his reach, within his control…one step, or one lap, at a time.
3. FOCUS
"All I did was look at the bottom of a swimming pool." Shortly after his accident at 13 years old, Mike threw himself into the pool. It became his sharp focus. He loved it. He loved the competition. "It was all about winning," he said. Swimming became his focus (and the focus of his family!) You steer where you stare and Mike kept his eyes fixed on the finish line, coming in first. And he did. Over and over again.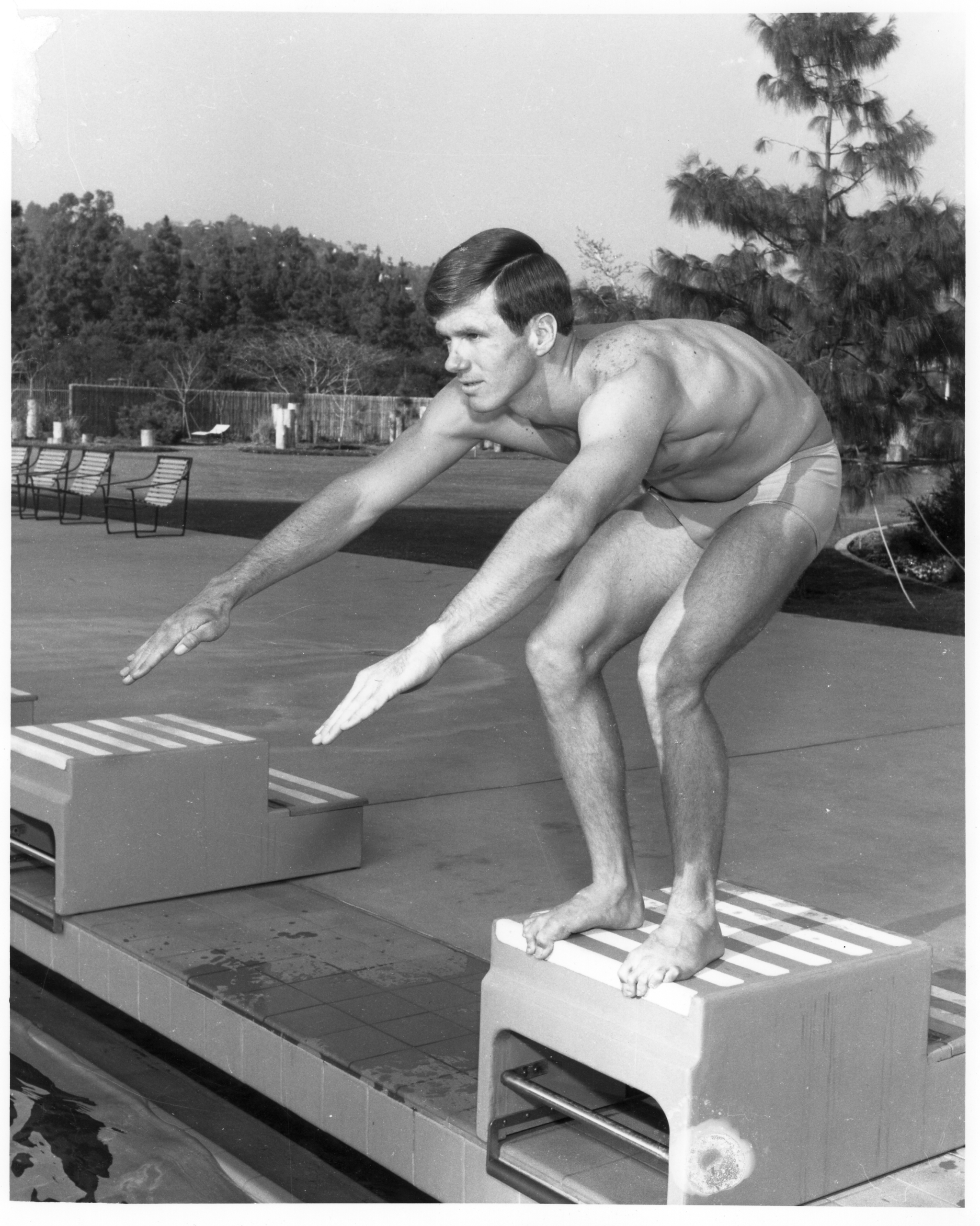 4. SAY "YES" TO FEW THINGS AND "NO" TO MANY THINGS
That kind of focus, the focus required to become the best in the world or even to champion a steep climb, means you'll have to say "NO" to many things so that your "YES" is stronger. His wife Carol said "he's not handy at all, but that's because all he did was swim. Other kids had hobbies, fixed cars, had jobs…Mike swam."
5. COMPETITION MAKES YOU BETTER
Mike gives credit to his competitors, the other swimmers. They were the ones who set the pace for him, who challenged him to elevate his game. He'd often study his competition and those who were better than him and then duplicate their techniques to help him become better!
6. BE COACHABLE & A COACH
Mike said he made it a point to listen. He listened when he was told to eat 4 meals a day and include 2 green vegetables at each meal. He didn't particularly like vegetables, but he said "I learned to like them" because he needed them to overcome his vitamin deficiency that was robbing him of energy and causing pain. He received, but he also turned around and gave. Mike became a swim coach and coached others with all he had learned for over 30 years. When asked which was more fun, winning or watching others win, he said "watching the kids win…it brings tears to my eyes."
7. GRIT
Courage, resolve, strength of character. I asked Mike where he got his. He believes he got a lot of it from his dad who was a 135 pound paratrooper jumping out of planes with 85 pounds on his back fighting battles all over the world. Before winning the 2 gold medals at the Olympics in Mexico City in 1968, Mike asked "what will it take to win this?" To which the response was, "well, the Austrailians are swimming 4.12, the French are 4.11…." And Mike says with resolve, "then I'll swim 4.09." And he did all while dealing with "Montezuma's Revenge." His swimmers on his swim teams say Coach Burton would remind them "It's all in your head" and "It's only as hard as you make it." These are the words of someone with grit.
8. PERSISTENCY, CONSISTENCY & REPETITION
An hour and a half practice in the morning and a two hour practice in the afternoon…365 days a year. Mike said that even on Christmas morning, his swim coach would open the pool and he and a few swimmer friends would show up first thing Christmas morning to get their practice in. After practice, they'd head home for breakfast and presents. He said he thinks he could count on one hand the number of practices he missed in a year. Day in, day out. Swim, eat, repeat. Carol said this regimented routine still shows up in his life now. "I watch the news then 'Price is Right' and then I go swim 5 days a week. After THAT, I can start my day," says Mike.
9. LOVE IT
Find what will drive you to keep climbing, to keep reaching, to keep going. Mike said he loved it. He loved swimming, competing, and winning. It drove him in the water and out of the water to practice, to push, to study and to win.
Mike and Carol, it's an honor to support you and your family here at SRP. Thank you for sharing part of your story with us and inspiring us to "go for the gold"…or at least to get some grit!